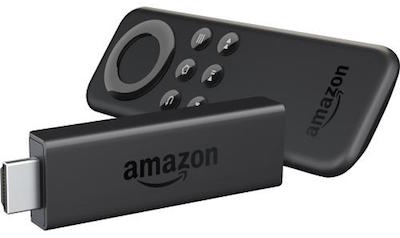 Pick up the Amazon Fire TV Stick for just $24.99 on BestBuy.com right now! That's $15 off the regular price (and it's even cheaper than Amazon).
This is a streaming media HDMI stick that just plugs right into your TV. You can access services like Netflix, Amazon Instant Video, Hulu Plus, Pandora, and more.
Shipping is free if you spend $35 or more. In-store pickup is also available so you can avoid shipping charges altogether.
Powerful performance—4x the storage and 2x the memory of Chromecast, plus a dual-core processor and 1 GB of memory.
Massive selection—Over 200,000 TV episodes and movies, millions of songs, and hundreds of games.
Instant streaming with ASAP—No more waiting for your movies and shows to buffer—ASAP learns what movies and shows you like so they start instantly
Dedicated remote and app for easy use—With the Amazon Fire TV Remote that comes in the box or the free app on your Android device (iOS coming soon), you have all the controls you need to easily search, navigate, and play games
Voice search that actually works—Simply say what you want to watch and start enjoying in seconds with the free app or Amazon Fire TV Voice Remote (sold separately)
Connect your small screen to your big screen— Fire TV Stick lets you fling your favorite apps to your TV to free up your small screen for other uses. Or mirror your phone or tablet to your TV.
Great for gaming, too—Play favorite titles like Flappy Birds Family, Toy Story: Smash It!,Monsters University, and more great games
Buy Amazon Fire TV Stick