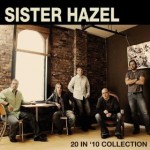 Amazon is offering Sister Hazel's 20 In 10: Digital Collection FREE via download! There are quite other albums that are FREE. Here are just a few:
March 2010 Saddle Creek Sampler
Six Degrees Records Global Grooves Sampler
See All FREE Albums
Also, if you purchase a qualifying album for $7.99, you will get a $4 Video on Demand credit with the purchase! Considering you can get new release movies for only $3.99, that would mean a FREE movie! See all $7.99 albums here.
If you are purchasing a $7.99 album, check under 'Special Offers' to ensure it is included in the FREE VOD credit.
Thanks, SwagGrabber!