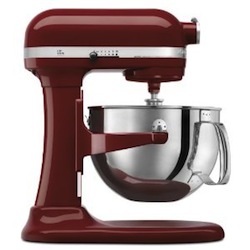 Anyone in the market for a KitchenAid mixer? Amazon has the KitchenAid Professional 600 Series 6-Quart Stand Mixer on sale for just $259.99 as the Gold Box Deal of the Day. This regularly costs $500, so this is one heck of a discount!
As if that deal wasn't good enough, you can submit for a $50 mail in rebate and you will have paid $209. This item also comes with a FREE subscription to Food and Wine magazine, but if you don't want it, you can submit for another $24 mail in rebate. That makes it only $185! That's an awesome price!
To get $24 back from the magazine subscription, look in the fine print on the right hand side of the rebate form.