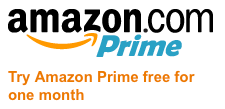 Amazon is offering a FREE one month trial of their Prime membership again! This gives you free 2 day shipping on many items they sell!
As soon as you sign up, you can go into your account and select not to upgrade. You'll still get your month of FREE shipping and have no worries about paying a membership fee after the month is over.
You get FREE shipping, no minimum!
You can add 4 family members to your account so they can enjoy free shipping too!
Your FREE shipping works to send the items anywhere in the US…you don't have to just send things to your house!
If you have already done a trial of Prime, it may not let you try it again.
Thanks, Southern Savers!