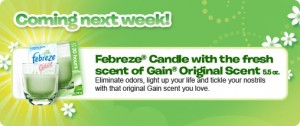 It looks like Gain will be offering up another freebie on Tuesday, August 10th! Go here and 'Like' them so you will be notified on your wall when the freebie is released.
Next week, they're introducing the Febreze Candle with Fresh Scent of Gain…could that be the freebie?! Stay tuned…
Thanks, Mojo Savings!