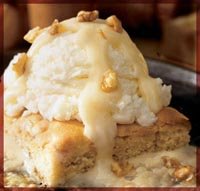 UPDATE: This coupon is only valid at these locations.
Applebee's is offering an awesome text message coupon! Before telling you about this great coupon, I want you to be aware that this text coupon is only valid the day you text for the coupon which means do not text for the coupon now if you're not going to Applebee's tonight!
When you're ready to go to Applebee's, text APPLE to 69100. You'll receive a text message back that states, 'Show this text for $5 off ur Food purchase (today only)'. You'll also have the option to reply again with your zip code to receive future text message rewards from Applebee's.
You may be able to get a huge dessert for less than $1 by using the $5 coupon (not including the tip)!
Thanks, Hip2Save!