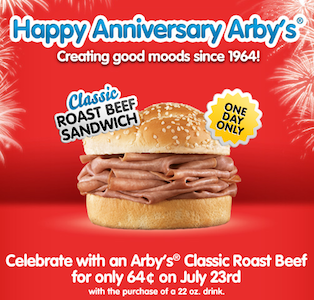 Woohoo! Here's a great restaurant deal for you guys! Arby's is offering a Classic Roast Beef Sandwich for just $0.64 when you purchase a drink. This is in celebration of the first Arby's location opening on 7/23/1964.
To grab your coupon, just head over to the Arby's website and enter your name. This is only valid on 7/23 and is limited to one per customer.
Thanks, Savings Lifestyle!