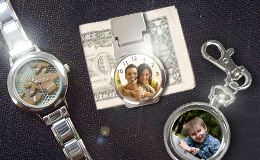 ArtsCow is offering up another great freebie! Currently, you can get a FREE ArtsCow Photo Watch with FREE shipping! Please keep in mind you'll need to refer 3 Facebook friends to ArtsCow and they'll need to become fans of ArtsCow.
Just follow these directions:
Login to your Facebook account, become a fan of ArtsCow on Facebook, and then click here.
Scroll down and select at least 3 of your Facebook friends that you would like to invite to join ArtsCow.
Click on the blue 'Send FREE Personalized Watch Invitation' button and then confirm by clicking on the blue 'Send' button.
Return to the coupons page and wait for at least 3 of your friends to become fans of ArtsCow. The coupon code will not be displayed until 3 friends of yours have become fans. Once they've become fans, you'll be able to see the unique user-specific coupon checkout code. You should see this unique code displayed in a pink/red box.
Finally, create your photo watch here and use the coupon checkout code to get the watch for FREE plus get FREE shipping!
Hurry! There are a limited amount of codes available!
Thanks, Hip2Save!