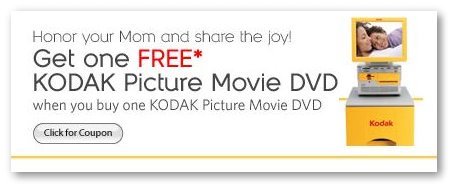 Go here to print a coupon for a FREE Kodak Picture Movie DVD wyb one! Many Target stores have a KODAK Kiosk, but it is a regular manufacturer's Bricks coupon, so you can take it to any other retailer that accepts coupons and has a KODAK Kiosk. Go here to find a retailer near you with a KODAK Kiosk.
If you are not familiar with Picture Movie DVDs, it's a way to combine your favorite photos into a slide show along with music. They can be created directly at a KODAK Kiosk in just minutes. They typically run around $15, but now with the coupon, you can make 2 for the price of one!
Thanks, Totally Target!