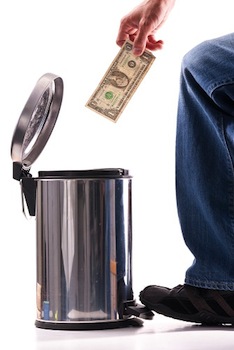 Have you ever been shopping and as you stroll up and down the aisle, you catch a big, colorful "Sale!" sign in blinking lights out of the corner of your eye that makes you stop dead in your tracks?
You were not shopping for that particular item but you are forced to stop because the offer is so unbelievable and the deal is just too good to pass up. Or is it?
Before you plop down the currency, take a moment and consider whether you hit the discount jackpot or might as well drop your dollars in the trash because you will never get a return on that investment.
To help with your dilemma, here are some guidelines for walking on by those "bargains" that are really budget busters in disguise.
Cheaply-Priced and Equally Cheaply-Made
Items that are apt to break, fall apart or otherwise render themselves unusable within an unreasonable amount of time should be avoided no matter the discounted cost. These might include:
Bundles of clothing – If you can get six t-shirts for $2, what are the odds they are going to survive the first tumble in the washer?
$1 One-Offs – Although the 'dollar store' can be a great place to find bargains, it's also a place to be weary of cheap junk from unknown brands.
Flimsy footwear – It can be tempting to pick up a multi-pack of flip flops for half the price of a single pair of decent, name-brand sandals, but products that are glued together or literally hanging on by a thread are not apt to make it more than a single trip to the beach.
Additional accessories – Sure, two pairs of sunglasses could be handy, but how long do you hope to use two pairs of shades that will crack or with lenses that will pop out? Save your money and stick with quality merchandise.
Expected to Expire
If you won't use them before their expiration date, keep walking. This includes:
Printer ink cartridges that will dry up
A lifetime supply of batteries that expire in a year and a half
Perishable food items
If you keep your eyes peeled for savings, discounts and coupons on the products you know from the manufacturers you trust, you can still find great deals that won't bust your budget.
What are some of the items you have purchased under the pressure of a deal that turned out to be too good to be true?
Norman Fong is Co-Founder of www.buyvia.com, an online, Android and iOS App smart shopping service that lists reputable products from top online stores, at the best price available. By downloading the BuyVia Android and iOS App to their Android Device to their iPhone or iPad, consumers can be alerted to the best deals on the most popular products, anywhere and anytime.