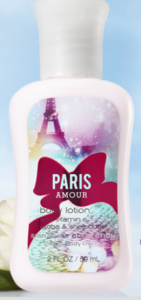 Bath and Body Works is offering another great weekend freebie! Through July 31st, you can get a FREE 2oz bottle of the new Paris Amour lotion, no purchase necessary!
They also have a $10 off $30 purchase coupon available, if you're interested in purchasing other items. This coupon is valid through July 31st as well.
Limit 1 per customer. While supplies last.
Thanks, Little House on the Prairie Living!