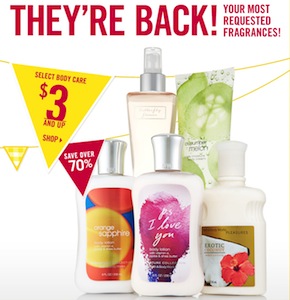 It's time for the great Bath and Body Works clearance sale! They have a variety of body care items priced at just $3 each. Items include hand soap, body lotion, shower gel, fragrances, and more.
There are two different coupon codes available to use as well to make the deals even better:
$10 off a $30 Purchase: F128114 (exp. 1/1/13)
20% off Your Order: BIGSALE20 (exp. 1/15/13)
You could add (10) $3 items to your cart for a total of $30. Enter coupon code F128114 at checkout to save $10, making your total $20. Shipping will come to $6.99, so for a total of $26.99, you'll get (10) items that normally cost up to $11 each!
Find more Bath and Body Works coupon codes in the online coupon codes database.