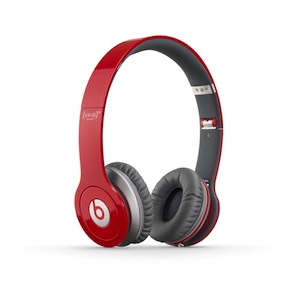 I know the Beats by Dre headphones are a popular item this year, and lots of you are probably looking for good deals on them. They aren't cheap by any means, but this is the best price out there since Black Friday!
Amazon.com is currently offering Beats by Dre On-Ear Headphones for $175. This is a savings of $24.95, but any savings on these is great! Shipping will be free with Super Saver Shipping or Amazon Prime.
Product Features
Clearer sound. Deeper bass. Beats Solo HD headphones are the only Beats by Dr. Dre that come with not one, but two speakers inside each can. That means you get crystal clear highs and deep, rumbling lows in high definition.
Every pair is now constructed of super-durable, flexible material, reinforced with a metal strip to make sure it never comes apart.
Built-in mic for calls. Switch easily between songs and incoming calls. No need to take off your headphones or talk into the phone like a walkie-talkie.
Remote control. Take calls, skip songs and adjust volume right from the cord of your Beats Solo HD headphones. No more searching for your phone or music player just to find the right song.
There are deals available on the in-ear headphones and the studio over-ear headphones as well.
Shop Beats by Dre Deals
The price stated above was valid as of 11:36AM CST on December 12, 2012. Prices and availability are subject to change at any moment. Please confirm the price before you complete your order.
Thanks Bargain Briana!