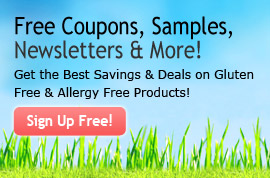 Get all that BeFreeForMe has to offer! From daily inspiring thoughts, direct links to hot coupons and samples, monthly newsletters, and informative product reviews followed by FREE samples and coupons sent direct to your home, BeFreeForMe has something, and everything, for the savvy gluten free and allergen free consumer.
Receive a sample pack of a new nut free cereal and try before you buy. Go ahead and buy a new kind of gluten free pasta with that $1 off coupon. Want to try a new dairy free cookie? Sure! These are some examples of how BeFreeForMe can help you sample and save!
Thanks, Mojo Savings!