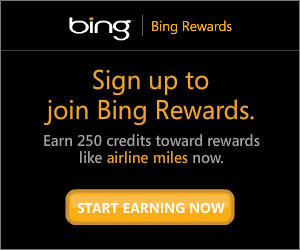 Would you like to earn rewards by performing searches on the Internet, besides using Swagbucks? If so, you'll want to head over and check out Bing Rewards. Once you sign up, you'll start earning credits by performing actions on Bing, such as setting Bing as your homepage. Even better, you'll automatically get 250 FREE credits upon registration.
To get started with Bing Rewards:
First, register for an account.
Download the Bing Bar, which enables you to earn credits. You must have Windows 7, Windows Vista, or Windows XP SP3 to download the toolbar.
Sign in with your Windows Live ID, or sign up for one, then complete the registration process.
Once you've earned enough credits, choose a prize in the redemption center, provide your shipping information, and they'll send you your reward for FREE.
Bing Rewards Preview ends September 30, 2011. Credits accumulated expire December 31, 2011. Only U.S. residents are eligible to join the Bing Rewards Preview. Bing Rewards Preview requires Windows 7, Windows Vista, or Windows XP with Service Pack 3 (SP3), and you must be using Internet Explorer 7.0 or later.
Thanks, Hip2Save!