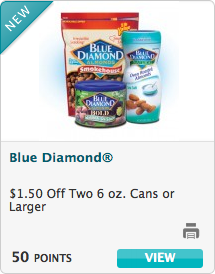 If you have 50 points in your Recyclebank account right now, you can easily score yourself a nice deal on Blue Diamond almonds! Just login to your account, click on the Get Rewards tab, then click on Food and Beverage. You'll see the new $1.50/2 Blue Diamond Almonds coupon pictured above.
Grab it and print it out, then take the coupon to Walgreens, where these are on sale buy one get one FREE this week. This makes for a great price on almonds! 🙂
Blue Diamond Almonds (6 oz), buy one at $3.79, get one FREE
$1.50/2 Blue Diamond Almonds Recyclebank coupon
Final cost: $1.15 each
Don't forget to check out all the other Walgreens deals going on this week!
Thanks Growing Up Natural!