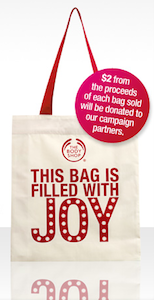 The Body Shop has more great deals available! When you purchase a $5 Bag for Life, you'll get 50% off everything you put in your shopping cart. Make it even better with coupon code FREEJOY, which will get you FREE shipping on your entire order.
This sale only runs through December 29th, so hurry and place your order today!
While supplies last. Limit 1 per order. Excludes prepackaged gifts and kits, gift cards, Love Your Body memberships, and charitable items.