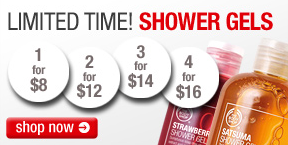 The Body Shop has some great deals going on right now! Some items have been marked down up to 70% off original prices. Plus, shower gels are on sale 4/$16, and other body care items are on sale 3/$30.
To make those deals even better, throw in a couple coupon codes! Take an additional 10% off your order with code JOY10, and get FREE shipping with code FREEJOY.
These stacked coupon codes should make for some great deals. Let us know what you guys score!