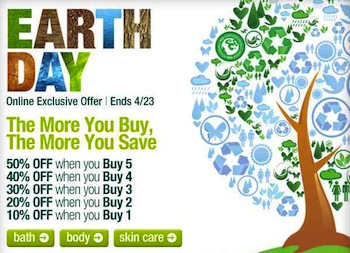 In celebration of Earth Day, the Body Shop is running their more you buy, more you save sale! You can get up to 50% off your entire order. Here are the discount levels:
Buy 5 items, get 50% off
Buy 4 items, get 40% off
Buy 3 times, get 30% off
Buy 2 items, get 20% off
Buy 1 item, get 10% off
To make the deals even better, enter coupon code MDAY as you're checking out, and you'll get FREE shipping when you spend $25 or more! This would be a great time to stock up on your favorite body care items.
Coupons procured by Savings.com