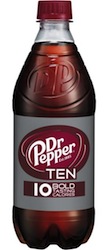 Here's a rare new Dr. Pepper coupon: Buy One Get One FREE 16 oz Dr. Pepper Ten! Make sure to print this soon; this coupon will run out of prints soon.
Most stores near me have soda priced around $1.59 per bottle, so about $0.80 each after the coupon.
See more printable coupons.