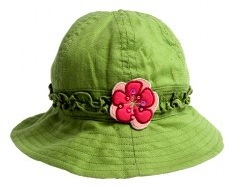 Have you heard of bTrendie? They're an online boutique that offers lots of high quality baby and children's items. They have lots of awesome deals available and usually these deals just last a few days! Currently, you can get a FREE $10 credit by signing up through this link (this wasn't working previously, but is confirmed to be working now). You can then use the $10 credit towards any item you like on their site. Shipping starts at $6.95, but if you buy an item that's less than $10, your $10 credit will cover part of the shipping cost!
You can get the sunhat pictured above for just $4.94 shipped after the $10 credit! Let us know what you decide to purchase!
**If you don't see anything that you like now, you can hold on to the $10 credit for future use.
Thanks, Hip2Save!