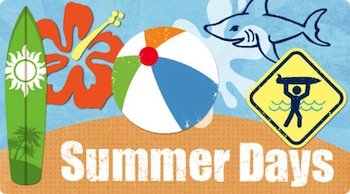 The following is a guest post from Gabrielle:
It's that time of year again, summer! While I enjoy having more time with the kids, there are some days that are simply just a challenge. Not only do I have to worry about staying on budget, but days like today, that are full of nonstop rain means we have to get creative.
Below are some budget friendly summertime crafts that won't break the bank but are sure to keep your little ones entertained.
Scrapbooking – This has to be one of my personal favorites! It's extremely cheap to have Walmart print your favorite photos and a quick trip to any dollar store can give you access to tons of stickers, glues and other accessories. It's a great way to preserve family moments and to have your kids help.
Painting – My kids love painting of any kind and it's sure to be a winner in this house. The ideas are endless – from paining by numbers to using fabric paint or buying wood items such as treasure boxes or photo frames that can be painted. The fabric paint is especially fun because you can use old t-shirts and hand me downs and they make for the perfect keepsake.
Cardboard Crafts – Making crafts out of cardboard is fun and it's cheap. All you need is some glue and some tape. I've made several cardboard projects including cars to airplanes and bigger projects such as a hut. You might not have noticed until just how much cardboard comes through your home that you never took the time to repurpose. Start saving cardboard from big purchases, shoes, toilet paper, paper towels and other items.
Paper Crafts – Construction paper, cardstock, coloring books, index cards, and poster board – all of these items can be used to make crafts and decorations that can keep your little one busy for hours on end.
Crafty Inspiration – You can find an endless assortment of budget friendly crafts by visiting Pinterest that are for both adults and kids. I've made crafts for holidays, teachers and for around the home. You can find recipes for making play dough, moon sand and hundreds more ideas. Most of the items can be made with items you already have laying around the house and haven't thought to use.
Also, Oriental Trading is an affordable site for buying easy to make crafts at home. The very best part of this site is that the crafts are affordable and usually come in groups so that you have several of the same crafts – decoration crafts, DIY crafts, photo crafts and jewelry crafts – just to name a few.
It won't be long until the school supplies start hitting the shelves and it's the perfect time to stock up on glues, crayons, notebooks, markers, pencils and so much more. Really, it's one of my favorite times of year.
These are just a few ideas for budget friendly crafts to stay busy this summer. I have to admit, until recently, I never really considered myself a crafty person. In fact, I went to great lengths to avoid it, but it's really fun once you find something that interests you. I am still sticking to the easier projects for now.
If you have a favorite craft that's easy to do and budget friendly, please do share with us!
Gabrielle Greene co-blogs on TipsOnHowToSaveMoney. Her friends often refer to her as "Gaby Gabs A lot," especially if it has anything to do with freebies and saving money! As the mom of two teenage girls, being frugal is an absolute must. It tends to drive her husband crazy, but oddly he doesn't complain when the coupons are for golfing.