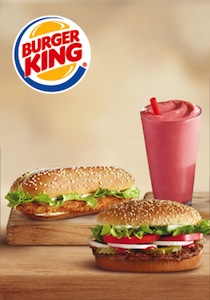 Today, October 18th only, Amazon Local is offering a FREE voucher to help you save at Burger King! You can take advantage of the following offers with this voucher:
Free Whopper Sandwich with the purchase of a Whopper Sandwich
Free Original Chicken Sandwich with the purchase of an Original Chicken Sandwich
Free Real Fruit Smoothie with the purchase of a Real Fruit Smoothie (free smoothie must be of equal or lesser value)
If you're not seeing this offer in your local area, change the city to Atlanta, GA. You can grab up to 10 of each voucher if you'd like. A credit card number will be required, but you will not be charged.
Voucher will expire if not used by November 4, 2012. Vouchers displayed on mobile devices will not be accepted. Only 1 voucher may be redeemed per visit. This offer may not be available at all Burger King restaurants and participation may vary by restaurant. Not to be used with any other coupons or offers.