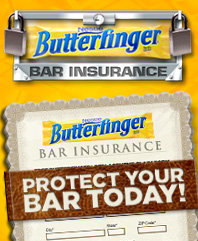 From the Butterfinger Facebook page:
"After reading your stories of Butterfinger loss we've decided to increase the security around the crispety, crunchety! Stay tuned tomorrow for a BIG (and we mean BIG) announcementon what Butterfinger is doing to protect your Butterfinger…"
Hopefully it'll be another freebie! Stay tuned, I will keep you posted, but I suggest you become a fan now.
Thanks, Mojo Savings!