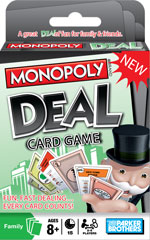 Make sure to browse through tomorrow's USA Weekend or Parade magazine found in the Sunday newspaper! I've heard lots of reports that you may find a Hasbro card game coupon inside! The coupon is valid for a FREE Hasbro Card Game when you buy 2 card games. The card games include Yahtzee Hands Down, Mille Bornes, Monopoly Deal, Sorry Revenge and Scrabble Slam. Make sure to pair this coupon up with the Hasbro game coupons from here!

Target Deal Scenario:
Buy 2 Monopoly Deal Card games at $5.24 each: $10.48
Buy 1 Scrabble Slam Card game, $5.24
Total: $15.72
Use 2 $5/1 Monopoly coupons from here
Use the buy two get one FREE coupon from the USA Weekend or Parade magazine
Final cost: $0.48 for all 3 card games–$0.16 each
Thanks, Hip2Save!