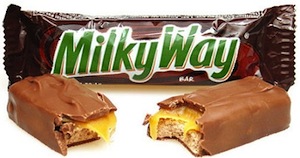 There's a new Milky Way Bars coupon available to print today! Grab your rare buy 2 get 1 FREE Milky Way Bars coupon now. This won't last very long, so print while it's still available!
This week, Walgreens has Mars candy on sale for $0.59 each. Milky Way is a Mars product, so you can get these bars for only $0.39 each after the coupon!
Buy 3 Milky Way Bars, $0.59 each
Buy 2 get 1 FREE Milky Way Bars
Final cost: $0.39 each
Check out the other Walgreens deals.