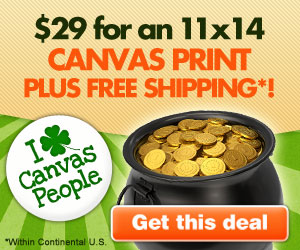 Through March 19th, Canvas People is offering a 11×14 canvas for $29 shipped! These are great for capturing family moments, birthdays, weddings, or just photos of the kids. This is an awesome price for this size canvas, so make sure you get in on this!
Here's how to get yours:
Head over to the Canvas People site.
Choose and upload the photo you'd like on your canvas.
Choose the 11×14 size.
Head to checkout and enter your shipping and billing information.
Pay $29 shipped!
Have any of you purchased one of these canvases? If so, please take a picture of yours and email it to me, along with your personal experience. I'd love to share your story with my readers!