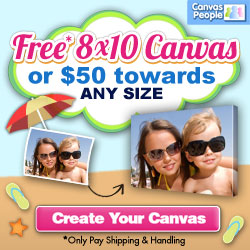 Once again, Canvas People is offering a FREE 8×10 canvas, or $50 off any other size canvas! You'll just pay for the shipping and handling, which should be around $14. This is still an awesome price for a canvas!
If you spend $19.95 or more on the site, you will also get a FREE subscription to Disney's Family Fun magazine! If you don't want the magazine, you can actually complete and mail a form, and you'll get a $10 check back.
Have any of you made canvases from Canvas People? If so, I'd love to see them, or hear about your experience! Please leave me a comment, or send me a picture of your canvas.