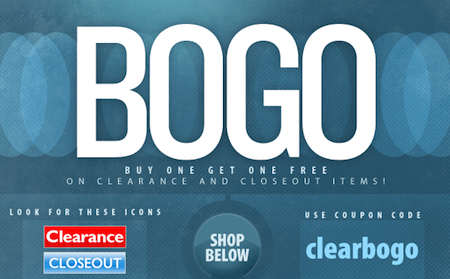 Now's time to stock up birthday party supplies, Halloween costumes and more! Celebrate Express is currently offering a Buy 1 Get 1 FREE promotion on all specially marked clearance and closeout items! Just use coupon code clearbogo at checkout. This code will expire on July 18th. You will receive the second most expensive clearance or closeout item in your shopping cart FREE. This code only works for products designated with the special closeout or clearance icons. This discount can be applied to multiple items per order, but will always be applied to the second most non-discounted item in the cart. Shipping costs start at $4.95.
Here are some good deals to be had with this coupon code:
Hannah Montana Gold Child Costume, $9.99
High School Musical Cheerleader Dress-Up Yearbook Child Costume, $9.99
Bee Instant Costume Kit, $4.99
Angel Instant Costume Kit, $4.99
Safari Babies Pick Candle Set, $0.99
American Idol Light-Up Cake Topper, $0.99
Peeps Marshmallow Chick Infant Costume, $9.99
Sweet Sailor Toddler Costume, $9.99
You can get all of the items above for a total of $31.91, including shipping!
Thanks, Hip2Save!