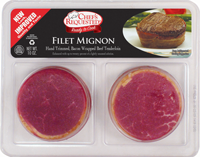 You don't come across coupons for steak very often, so take advantage of this one!
Chef's Requested Coupons have RESET!
$1/1 100-Calorie Steaks
$1/1 Steak-a-licious Box
$1/1 Bacon Wrapped Filet (10oz)
$1/1 Bacon Wrapped Beef Steaks (25/50oz)
If you're printing these for the first time, you will also receive a coupon good for $3/1 Steak (8 oz +)! You can use this coupon at Walmart to get a good deal:
Chef's Requested Bacon Wrapped Steaks, $3.28
Use the $3/1 Steak coupon from here
Final cost: $0.28
Thanks, Mojo Savings!