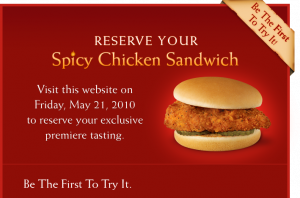 Make your reservation for an EXCLUSIVE premiere tasting of the Spicy Chicken Sandwich. From May 31 – June 5, Chick-fil-A is giving a limited number of FREE Spicy Chicken Sandwiches to customers who make a reservation. To make your reservation, go here beginning Friday, May 21 and choose your preferred Chick-fil-A restaurant location and time.
The Spicy Chicken Sandwich will be added to the menu on June 7.
Thanks, Mojo Savings!