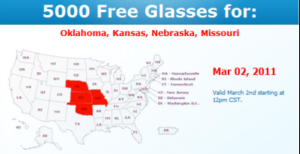 Coastal Contacts is giving away even more FREE glasses! This is only for select states on select days, and there will be 5,000 codes available each day. Check out the schedule below to see your state's time.
March 3: Indiana, Kentucky, Tennessee residents
March 4: Utah, Arizona, Idaho
March 7: Colorado, New Mexico, Wyoming, Montana
March 8: New Jersey, Maryland, Delaware
March 9: District of Columbia, Virginia, West Virginia
March 10-Connecticut, Rhode Island, Massachusetts
March 12: Maine, New Hampshire, Vermont
March 13: Louisiana, Mississippi, Alabama, Arkansas
To get your FREE pair of glasses, just follow these instructions.
Head to the Coastal Contacts Facebook page and click on the "FREE Glasses" tab.
Select your state and click on "Give Me a Code". Be sure you copy this code!
There are only 5,000 codes available for each region, so be sure to get yours early!
Once you have your code, head over to Coastal Contacts.
Create your glasses and add them to your cart at the appropriate time.
Enter the code and pay just $14 for shipping!