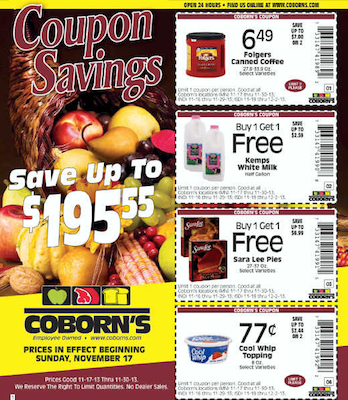 Coborn's has come out with a new coupon book! It's full of great sale prices and store coupons. The sales are valid through 11/30/13; the coupons are valid through 11/29/13 at North Dakota stores, 11/30/13 at Minnesota stores, and 12/2/13 at South Dakota stores.
There are 53 coupons inside, some of which you can stack with manufacturer's coupons for more savings! You can save up to $195.55 with the coupons inside this book alone, so don't miss these deals.
Check these sales and coupons out on your phone! Download the Favado app to your smartphone today.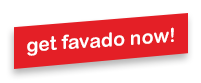 Coborn's Resources:
Prices Valid Through 11/30/13; Coupons Valid Through 11/30/13
Meat, Poultry & Fish
Farmland Chef's Prime Pork Roast – B1G1
B1G1 Farmland Chef's Prime Pork Roast (Coborn's Coupon Book Coupon) – Expires 11/30/13
Condiments, Spice & Baking
Kraft Mayo or Miracle Whip, 22 – 30 oz – $2.39
$2.39 Kraft Mayo or Miracle Whip, 22 – 30 oz (Limit 1; Coborn's Coupon Book Coupon) – Expires 11/30/13Includes: Select Varieties
Final Price: $1.39
Buy 1; Use (1) $1/1 coupon and (1) $2.18 Coborn's coupon
Grains, Pasta & Sides
Barilla Pasta, 12 – 16 oz – $1.25
B4G1 Barilla Pasta (Manufacturer's Coupon; Cash Wise Coupon Book) – Expires 1/31/14Includes: Select Varieties
Final Price: $0.60
Buy 5; Use (2) $1/2 coupons and (1) B4G1 coupon
Beverages
Maxwell House or Gevalia Single Serve Coffee, 12 ct – $4.99
$4.99 Maxwell House or Gevalia Single Serve Coffee, 12 ct (Limit 1; Coborn's Coupon Book Coupon) – Expires 11/30/13Includes: Select Varieties
Final Price: $3.49
Buy 1 Gevalia K-Cups; Use (1) $1.50/1 coupon and (1) $4.99 Coborn's coupon
Old Orchard Apple Juice Cocktail, 64 oz – $1.50
Includes: Select Varieties
$1.00/2 Old Orchard Juice, Any 64 Oz. – 11-03-13 SS – Manufacturer – (exp. 01/01/14)
Final Price: $1.00
Frozen Foods
Birds Eye Vegetables, 10 – 16 oz – $0.77
$0.77 Birds Eye Vegetables, 10 – 16 oz (Limit 3; Coborn's Coupon Book Coupon) – Expires 11/30/13Includes: Select Varieties
Final Price: $0.77
Cool Whip Topping, 8 oz – $0.77
$0.77 Cool Whip Topping, 8 oz (Limit 2; Coborn's Coupon Book Coupon) – Expires 11/30/13Includes: Select Varieties
Final Price: $0.77
Dairy
Food Club Butter, 16 oz – $1.95
$1.95 Food Club Butter, 16 oz (Limit 2; Coborn's Coupon Book Coupon) – Expires 11/30/13
Final Price: $1.95
$0.99 Kemps Sour Cream (Limit 2; Coborn's Coupon Book Coupon) – Expires 11/30/13Includes: Tub, 16 oz; or Squeeze Bottle, 12 oz
Final Price: $0.99
Kemps White Milk, half gallon – $2.59 – B1G1
B1G1 Kemps White Milk, half gallon (Coborn's Coupon Book Coupon) – Expires 11/30/13Includes: Select Varieties
Final Price: $1.30
Kraft Cheese Chunks or Shreds – $1.50
2/$3 Kraft Cheese Chunks or Shreds (Must Buy 2; Coborn's Coupon Book Coupon) – Expires 11/30/13Includes: Chunks, 8 oz; or Shreds, 5 – 8 oz
Final Price: $1.50
Kraft Philadelphia Cream Cheese, 8 oz – $1.00
4/$4 Kraft Philadelphia Cream Cheese, 8 oz (Must Buy 4; Coborn's Coupon Book Coupon) – Expires 11/30/13Includes: Select Varieties
Final Price: $1.00
Refrigerated
Land O'Frost Premium Minis, 10 oz – $3.99 – B1G1
B1G1 Land O'Frost Premium Minis, 10 oz (Coborn's Coupon Book Coupon) – Expires 11/30/13Includes: Ham or Turkey
Final Price: $1.00
Buy 2; Use (2) $1/1 coupons and (1) B1G1 Coborn's coupon