Here are the best Coborn's deals available this week! Check out the ongoing deals on the Coborn's Deals and Coupon Matchups page.
Coborn's Resources:
Check out these sales and coupons on your phone! Download the Favado app to your smartphone and start saving today.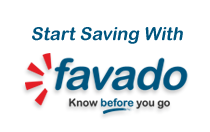 Prices are based on the St. Cloud, MN store flyer. Prices and sale dates may vary by store.
Produce
Corn, Sweet, Bi-Color, ea – $0.32
Peppers, Green, ea – $0.77
Potatoes, Red, 5 lb bag – $1.88
Canned Goods & Soups
Starkist Pouch Chunk Light Tuna, 2.6 oz – $1.25
Includes: Select Varieties
$0.75/1 Starkist Tuna Pouch Product – 7-27-14 SS – (exp. 09/21/14)

$1.00/2 Starkist Tuna Pouch Product – 7-27-14 SS – (exp. 09/21/14)

$1.00/3 Starkist Tuna Pouch Product – 7-27-14 SS – (exp. 09/21/14)
Final Price: $0.50
Condiments, Spice & Baking
Hellmann's Mayonnaise, 22 – 30 oz
Includes: Select Varieties
$2.49 Coupon Price Hellmann's Mayo, 22 – 30 oz; Limit 1 – Coborn's In-Ad Coupon – (exp. 08/23/14)
Final Price: $2.49
Skippy Peanut Butter, 16.3 oz – $1.99
$0.75/2 Skippy Peanut Butter or Spread Products, 15 oz or Larger – 8-3-14 SS – (exp. 09/29/14)

$1.00/2 Skippy Peanut Butter or Spread Products, 15 oz or Larger – 8-3-14 SS – (exp. 09/29/14)
Final Price: $1.49
Beverages
Powerade, 32 oz – 15/$10 Coupon Price
Includes: Select Varieties
15/$10 Coupon Price Powerade, 32 oz; Must Buy 15 – Coborn's In-Ad Coupon – (exp. 08/23/14)
Final Price: $0.67
Dairy
Daisy Cottage Cheese, 24 oz – $2.99
Includes: Select Varieties
$0.45/1 Daisy Brand Cottage Cheese – 6-22-14 SS – (exp. 09/30/14)

$0.45/1 Daisy Cottage Cheese – 6-1-14 RP – (exp. 09/30/14)

$0.45/1 Daisy Cottage Cheese – 7-13-14 SS – (exp. 10/18/14)
Final Price: $2.54
Welch's Farmer's Pick Juice, 46 oz – $2.74
Includes: Select Varieties
$0.75/1 Farmer's Pick by Welch's, 46 oz – 7-13-14 RP – (exp. 09/30/14)

$1.00/1 Welch's Farmer's Pick, 46 oz – 5-18-14 RP – (exp. 08/18/14)

$1.00/2 Farmer's Pick by Welch's, 46 oz – 7-13-14 RP – (exp. 09/30/14)

$3.00/4 Welch's Products; Manufacturer's Coupon – Coborn's In-Store Coupon – (exp. 08/23/14)
Final Price: $1.74
Yoplait Yogurt, 4 – 6 oz – $0.50
Includes: Original, Light, Whips, or Thick & Creamy
$0.40/6 Yoplait Yogurt Cups – 8-3-14 SS – (exp. 09/27/14)

$0.50/8 Yoplait Yogurt Cups – 8-3-14 SS – (exp. 09/27/14)

$1.00/10 Yoplait Yogurt Cups – 8-3-14 SS – (exp. 09/27/14)

$1.00/5 Yoplait Yogurt Cups – 8-3-14 SS – (exp. 09/27/14)
Final Price: $0.30
Home Supplies
Rayovac Alkaline AA Batteries, 16 ct – $3.99
Includes: Select Varieties
$1.00/1 Rayovac Alkaline Battery Pack – 8-3-14 RP – (exp. 09/30/14)
Final Price: $2.99