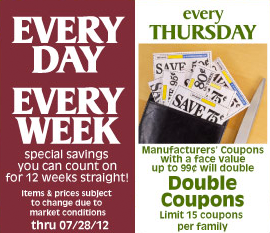 Yay! Coborn's has released the details of their double coupon day, along with a list of daily deals. These deals repeat every week through 7/28/12, so don't worry if you miss out one week!
Sunday: Buckley Farms Beef Burgers (3 lb.), $7.98 ~ Limit 1
Monday: Food Club Spring Water (24 pk. .5 liter bottles), $2.99 ~ Limit 2
Tuesday: Rotisserie Chicken, $5 ~ Limit 1
Wednesday: Kemps Select Skim Chocolate Milk (gallon), $2.49 ~ Limit 2
Thursday: Double Coupons!
Manufacturer's coupons with a face value up to $0.99 will double. Limit 15 coupons per family.
Friday: Food Club Ice Cream (59 oz), $1.49 ~ Limit 2
Saturday: Nestle Candy Bars (1.28-2.1 oz), $0.39 ~ Limit 6
What's your favorite of these deals? Personally, I'm really excited for the double coupons! We're sure to get some great deals throughout the spring and beginning of summer with doubles.