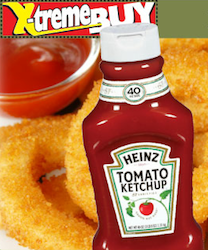 Did you know that Coborn's offers exclusive email coupons and savings? This week's coupon is for a 40 oz bottle of Heinz Ketchup for just $0.98! To be eligible to get these, you'll have to spend $10 on other merchandise and print out the coupon.
You can stack this coupon with the following coupon for even more savings: $0.25/1 Heinz Tomato Ketchup 05/20/2012 SS Insert (exp 06/19/2012). And since that would double on Thursday, you could get this bottle of ketchup for only $0.48! That's an awesome deal 🙂
So sign up for Coborn's exclusive email offers today and start saving!
Don't forget to check out the current Coborn's deals too!