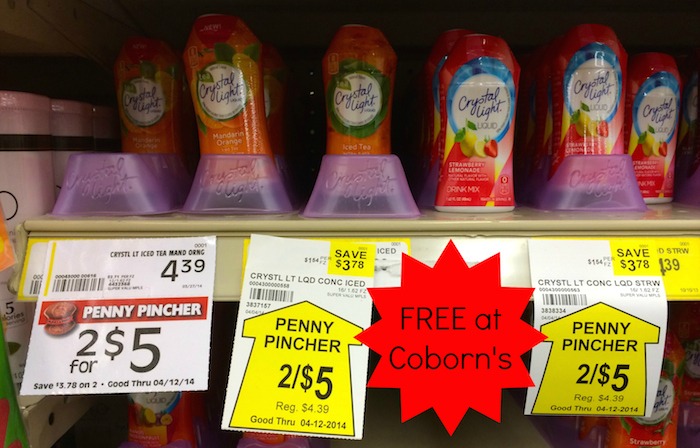 Wow! If you have a Coborn's nearby and received the latest Penny Pincher coupon booklet, don't miss this awesome deal!
Inside the Penny Pincher booklet, there's a coupon that will get you 5 select Crystal Light, Country Time, or Kool-Aid drink mixes for $5.
The best part: the Crystal Light Liquid drink mixes are included in this deal as well! There are $1 off coupons for these too. If you can get 5 $1 off coupons, pair them with the 5/$5 Penny Pincher coupon to get 5 for FREE!
Also, make sure to look for tearpad coupons near the Crystal Light. I found a few stray tearpad coupons on the shelf next to the Crystal Light products.
Coborn's Deals
Buy 5 Crystal Light (10 ct, 10 – 12 qt, or 1.62 oz) – 5/$5 with Coborn's Penny Pincher coupon
$1/1 Crystal Light Drink Mix; Powdered or Liquid printable
$1/1 Crystal Light Liquid Drink Mix – 3-16-14 SS – (exp. 04/30/14)
Final Price: 5 for FREE!
This is such a great deal, considering these are regularly priced at $4.39 at Coborn's! Hurry in and get yours today.
Check the Coborn's Coupon Matchups page for more Coborn's Deals!