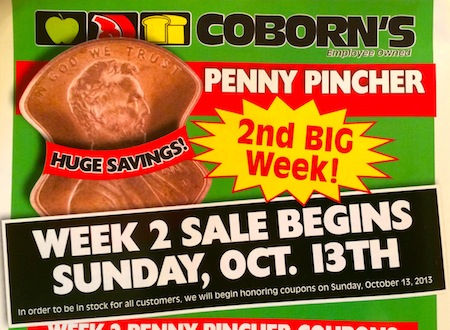 Here are the best Coborn's Penny Pincher deals available this week! You'll need the coupon booklet to take advantage of the coupons. If you don't have one, ask at the service counter.
Check out the ongoing deals on the Coborn's Deals and Coupon Matchups page.
Check these sales and coupons out on your phone! Download the Favado app to your smartphone today.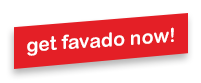 Coborn's Resources:
Prices and Coupons Valid Through 10/19
$1.48 Honeycrisp Apple Totes, per lb (Coborn's Penny Pincher Week 2 Coupon) – Expires 10/19/13
Country Hearth Dakota 12-Grain Bread, 1.5 lb
$1.97 Country Hearth Dakota 12-Grain Bread, 1.5 lb (Limit 2; Coborn's Penny Pincher Week 2 Coupon) – Expires 10/19/13
Final Price: $1.42
Buy 1; Use $0.55/1 printable and $1.97 Coborn's Penny Pincher coupon
Food Club Chicken Noodle or Tomato Soup, 10.75 oz
$0.44 Food Club Chicken Noodle or Tomato Soup, 10.75 oz (Limit 4; Coborn's Penny Pincher Week 2 Coupon) – Expires 10/19/13
$1.72 Food Club Peanuts, 16 oz (Limit 2; Coborn's Penny Pincher Week 2 Coupon) – Expires 10/19/13
Includes: Dry Roasted, Light Salted, or No Salt
$1.97 Sun Chips, 7 oz (Limit 3; Coborn's Penny Pincher Week 2 Coupon) – Expires 10/19/13
Includes: Select Varieties
Old Orchard Cocktail Blends, 64 oz
$0.98 Old Orchard Cocktail Blends, 64 oz (Limit 2; Coborn's Penny Pincher Week 2 Coupon) – Expires 10/19/13
Food Club Shreds or Chunk Cheese, 8 oz
$1.38 Food Club Shreds or Chunk Cheese, 8 oz (Limit 3; Coborn's Penny Pincher Week 2 Coupon) – Expires 10/19/13
Includes: Select Varieties
Food Club White Milk, half gallon
$0.99 Food Club White Milk, half gallon (Limit 3; Coborn's Penny Pincher Week 2 Coupon) – Expires 10/19/13
Includes: Select Varieties