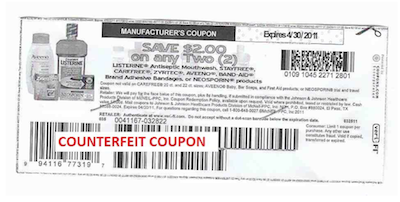 This morning, I learned that the $2/2 Johnson and Johnson coupon pictured above is counterfeit. This coupon actually had bricks.com in the link and appeared to me to be 100% legitimate to me. I have referenced it a few times in my posts, and I have even used these myself. The Coupon Information Corporation (CIC) added this coupon to its list of counterfeit coupons on Friday, April 15th.
If you already unintentionally used this coupon at a store and/or have this coupon in your possession, I have two recommendations for you. If you still have the coupon, I suggest throwing away or shredding any remaning coupons you have.
If you used the coupons to purchase items that are still unopened, I encourage you to return them to the store you purchased the item from. Please note that the store should subtract the coupon from the refund amount. If you used the coupon to get a travel size item for FREE, you should not get any money back.
If you already used or opened the items you purchased with this coupon, I'm not sure what you should do. I would recommend speaking to the store manager and ask them what they recommend.
I am so sorry about this mishap! Please feel free to share your thoughts with us in the comment section below.
Thanks for the heads up, Hip2Save!