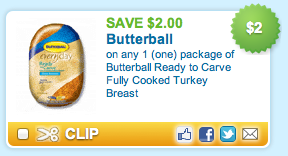 Here are a few new coupons for you to print:
$2/1 Butterball Ready to Carve Turkey Breast
$5/1 Transformers 3 on Blu-ray or DVD
$1/1 Listerine for Kids Product
$1.50/1 Axe Shower Gel (excludes travel size)
Buy One Get One FREE Chiquita Bites Singles or Fruit and Juice Duos
$0.50/2 Peeps Items
These are on sale for $0.49 with in-ad coupon at Walgreens through 10/31, so just $0.25 each!
$1.50/2 Johnson and Johnson Red Cross Items
This makes the travel size kits just $0.22 at Target!
$1.50/1 Mars Candy (9.4 oz +)
This should make for some great candy deals as we approach Halloween!