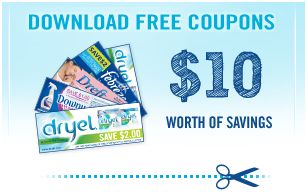 OneCare Co. has reissued their coupons again here and they all have a new expiration date of 12/31/10. They offer a single printable PDF sheet of $10 in coupons. They are in color, so they will use quite a bit of ink and you will have to print the entire sheet at once. You can also request them by mail and they say you can expect them in 10 days. They will let you both print and request by mail!
The printable sheet includes the following: 
$2/1 Dryel refill or starter kit
$2/1 Febreze laundry eliminator
$1/1 any size Tide wash bag or bra bag
$1/1 Evercare lint roller
$1/1 Downy Wrinkle Releaser 500ml or 1L size
$1/1 15 Minute Dry Cleaner with Bounce
$1/1 Bounce lint roller
$1/1 Dreft product excluding detergents
Thanks, Totally Target!