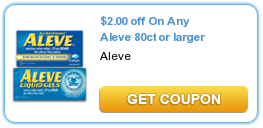 Wow! There are a ton of new coupons around the Internet today. Here's an extensive list for you!
$1/1 Bag of Pretzel Crisps (6-14 oz)
Target sells the 6 oz bags for $1.99, so just $0.99 after the coupon.
$1/1 Starbucks Refreshers Product
Target has these on sale for $1.50 right now, so only $0.50 each after the coupon!
Unilever Coupons
$1/1 Axe Shower Gel or Detailer Tool ETS
$1/1 Degree Women Premium Anti-Perspirant/Deodorant or Body Mist
$1/1 Degree Men Adrenaline Series Antiperspirant/Deodorant
$0.75/1 Caress Body Wash ETS
$1.75/2 Bertolli Frozen Meals or Meal Soups
$0.60/1 Shedd's Spread Country Crock Spread
$1/1 Slim-Fast Shake Multi-Pack or Shake Mix
Grocery
$1/2 Keebler Crackers
$0.75/1 Kraft Philadelphia Natural Slices
$0.50/1 Tetley Tea
Personal Care
$1/1 Sally Hansen Lip Product
$1/1 Kiss Nail Dress
$1/1 Kiss Premium Lash product
$1/1 Kiss Artificial Nail Product
Household
$1/1 Wisk Deep Clean
Health Care Coupons
$2/1 Aleve product (80 ct. +, excludes Aleve-D)
$2/1 Aleve-D product
$1/1 Alka-Seltzer Antacid or Plus Cold product
$1/1 Bayer Advanced Aspirin
$1/1 Bronkaid product
$1/1 Campho-Phenique product
$2/1 Citracal Calcium Gummies / Slow Release
$1/1 Citracal product
$1/1 Disney or Marvel Gummy Vitamin Shapes (60 ct. +)
$1/1 Flintstones Multivitamin
$2/1 Midol product (20 ct. +)
$1/1 Neo-Synephrine product
$1/1 One a Day Multivitamin product
$5/1 Osteo Bi-Flex Caplets, Softgels, or Powder
$2/1 Phillips' Colon Health product