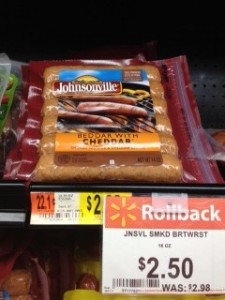 Photo Credit: I Heart the Mart
Here are a bunch of new coupons for you guys to print! Let me know if any have run out of prints or you can't find them.
$1/2 Johnsonville Sausage
These may be on Rollback for $2.50 at Walmart, so $2 each after the coupon.
$1/1 Honey Bunches of Oats Fruit Blends
$1/1 Scrubbing Bubbles Toilet Cleaning Gel
$1/1 Scrubbing Bubbles Foaming Bathroom Cleaner
$0.75/1 Fantastik Cleaning Product