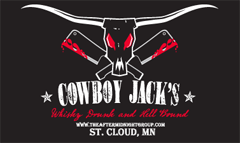 I had a chance to visit the new Cowboy Jack's restaurant in downtown Saint Cloud on Friday evening. The new restaurant has a great western saloon atmosphere (and there are peanut shells on the floor :-)).
We ordered a couple things from their appetizer menu: quesadillas and potato skins. They were both excellent and reasonably priced! My dad ordered one of their build your own burgers and he said it was great as well.
While we were there, I noticed a few great deals they are currently offering! First of all, they have happy hour every day from 3-6pm and 10-12pm. There are lots of great deals you can get during these times!
Happy Hour Deals
$2 Select Drinks
$2 Select Beers
$3 House Wines
Half Price Select Appetizers
They have some great weekly deals and specials as well:
Monday: $2 Sloppies
9pm Beer Pong
Tuesday: $5 Winds (24)
$150 Trashy Can Tuesday
Wednesday: $2 Burgers
Thursday: $3 Mini Menu
$3 Pitchers
Friday: $3 Grape Apes
Saturday: Bottomless Bloody Marys and Screwdrivers (10am-1pm)
Kegs and Eggs (10am-1pm)
Sunday: Bottomless Bloody Marys and Screwdrivers (10am-1pm)
Kegs and Eggs (10am-1pm)
If you live in the St. Cloud area, I highly suggest you take a night and check out this great new restaurant! We were impressed 🙂