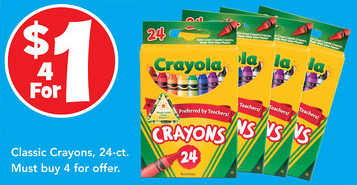 You may not think of Toys R Us as a store with good deals on school supplies, but here's one of the best deals I've seen on crayons!
This week, Toys R Us has the 24 count boxes Crayola Crayons on sale 4/$1. That makes each box only $0.25! You must buy 4 in order to get this awesome price.
This is about the lowest price we'll see on Crayola crayons throughout the back to school shopping season, so make sure to stock up! Even if you don't need crayons, I'm sure a school near you would really appreciate a donation as well.
If your Toys R Us store runs out of these, you can price match at Walmart as well. 🙂
See more back to school deals.