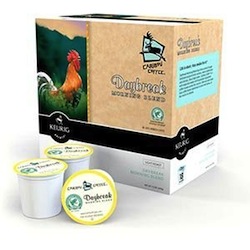 Are you a big coffee fan? If so, don't miss this great one day sale at Cross Country Cafe! Today, October 17th only, you can get $2 off all K-Cups, Gourmet Pods, Ground, or Whole Bean Coffee. Just enter coupon code SUPERWACKY at checkout to grab this deal.
If you order 12 boxes of K-Cups, you can get FREE shipping! That makes the K-Cups as low as $0.45 per cup, which is a stock up price and beats Amazon prices!
Here's the best deal I see:
Order 12 Boxes of K-Cups, $12.95 each
Enter coupon code SUPERWACKY to save $2 per box ($24 off)
Get FREE shipping
Final cost: only $0.45 per cup!
If 12 boxes is too much for you to order right now, you could still get a great deal at $0.51 per cup when you order 6 boxes.