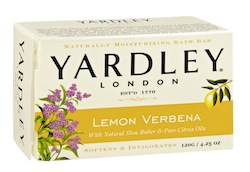 Who doesn't love the CVS coupon machine? It appears to be printing yet another coupon that makes for a FREE product.
Some of you are getting a coupon for $2/2 Body Wash or Bar Soaps. CVS has Yardley soap on sale for $0.69, so you can get 2 for FREE after the coupon.
Buy 2 Yardley Bar Soaps, $0.69 each
$2/2 Body Wash or Bar Soaps CVS coupon machine
Final cost: 2 for FREE!
Check out the rest of the CVS deals you can grab while you're there.
Thanks This Mommy Saves Money!