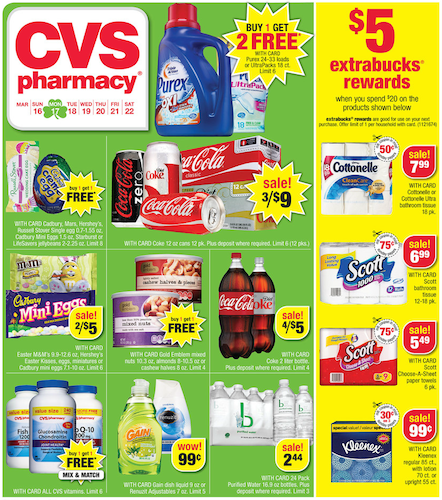 Here are the best CVS deals and coupon matchups for the week of 3/16 – 3/22! Get FREE Crest toothpaste, FREE Stride gum, $0.50 deodorant, and more this week.
You'll need an ExtraCare card in order to take advantage of the sale prices and ExtraCare Bucks offers. Get store coupons by scanning your ExtraCare card at the coupon scanner too.
CVS Resources:
Check out these sales and coupons on your phone! Download the Favado app to your smartphone today.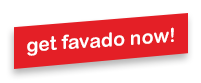 CVS ExtraBucks
Get $1 ECB wyb 2 Participating Right Guard or Dry Idea, Limit 1
Right Guard or Dry Idea – $3.00
Excludes Twin Packs and Aerosols
$2.00/1 Right Guard Xtreme Clear Antiperspirant or Deodorant – 3-16-14 RP – (exp. 04/13/14)

$2.00/2 Right Guard Total Defense 5 or Xtreme Product – 3-16-14 RP – (exp. 04/13/14)
Out-of-Pocket Price: $1.00
Final Price: $0.50
Buy 2; Use 2 $2/1 coupons; Includes ECB savings; Stack with other Items in SavingStar Rebate for Maximum Savings
Get $1 ECB wyb 2 Participating Stride Gum, Limit 1
Stride Sugar-Free Gum, 14 ct – $1.00
$1.00/2 Stride Gum Single Packs, 14 ct – 3-16-14 SS – (exp. 04/13/14)
Out-of-Pocket Price: $0.50
Final Price: Free
Includes coupon and ECB savings
Get $2 ECBs wyb 1 Participating Crest, Limit 2
Crest 3D White, Pro-Health, w/Scope, 4 – 4.8 oz or Pro-Health Rinse, 8 – 8.4 oz – $2.99
Out-of-Pocket Price: $1.99
Final Price: Free
Use $1/1 coupon; Includes ECB savings; Stack with other items in the MIR for maximum savings
Get $3 ECBs wyb 3 Participating Cereals, Limit 1
Cascadian Farm Organic Cereal, 16 oz – $3.00
$0.75/1 Cascadian Farm Product – 1-5-14 SS – (exp. 03/29/14)

$1.00/1 Cascadian Farm Product – 1-5-14 SS – (exp. 03/29/14)
Out-of-Pocket Price: $2.00
Final Price: $1.00
Buy 3; Use 3 $1/1 Coupons; Includes ECB savings
Get $4 ECBs wyb $14 in Participating Cleaning Products, Limit 1
Windex Touch-Up, 10 oz – $3.50
B1G1 Windex Touch Up Cleaner; Maximum Value $3.99 – 3-16-14 SS – (exp. 04/27/14)
Out-of-Pocket Price: $1.75
Final Price: $0.75
Buy 4; Use B1G1 Coupon; Includes ECB savings
Get $4 ECBs wyb 1 Participating Crest Sensti, Be or 3D, Limit 2
Crest Sensi Relief, Be or 3D White Brilliance 3 – 4.5 oz – $4.99
$1.00/1 Crest BE Toothpaste, 4.5 oz; Excludes Trial or Travel Size; Limit of 4 Like Coupons Per Household Per Day
$1.00/1 Crest Sensi-Relief Toothpaste, 4.1 oz; Excludes Trial or Travel Size; Limit of 4 Like Coupons Per Household Per Day
$1.00/1 Crest 3D White Brilliance Toothpaste, 4.1 oz; Limit of 4 Like Coupons Per Household Per Day; Excludes Trial or Travel Size
$1.00/1 Crest Sensi-Relief Toothpaste, 4.1 oz; Limit of 4 Like Coupons Per Household Per Day; Excludes Trial or Travel Size

$0.75/1 Crest Toothpaste, 3 oz or Larger; Excludes Trial or Travel Size, Cavity, Baking Soda, or Tartar Control; Limit of 4 Like Coupons Per Household Per Day – 3-2-14 PG – (exp. 03/31/14)

$1.00/1 Crest Be Toothpaste, 4.5 oz or Larger; Excludes Trial or Travel Size; Limit of 4 Like Coupons Per Household Per Day – 3-16-14 RP – (exp. 04/30/14)

$1.00/1 Crest Be, Sensi-Relief, 3D White Brilliance Toothpaste or 3D White Brililance Boost, 3 oz or Larger; Excludes Trial or Travel Size; Limit of 4 Like Coupons Per Household Per Day – 2-9-14 RP – (exp. 03/31/14)

$1.00/1 Crest Sensi-Relief Toothpaste, 4.1 oz or Larger; Excludes Trial or Travel Size; Limit of 4 Like Coupons Per Household Per Day – 3-2-14 PG – (exp. 03/31/14)
Out-of-Pocket Price: $3.99
Final Price: Free
Includes $1/1 coupon and ECB savings; Stack with other items in the MIR for maximum savings
Get $4 ECBs wyb 1 Participating Sundown Gummies, Limit 1
Sundown Naturals Gummies, 50 – 120 ct – $7.00
$2.00/1 Sundown Naturals Adult Gummies – 3-16-14 RP – (exp. 05/15/14)

$2.00/1 Sundown Naturals Adult Gummy Product; Excludes Probiotics – 2-16-14 RP – (exp. 06/10/14)
Out-of-Pocket Price: $5.00
Final Price: $1.00
Includes coupon and ECB savings
Canned Goods & Soups
Progresso Soup, 18.5 – 19 oz – $1.49
Limit 1 $0.50/1 CVS coupon$0.50/1 coupon at the in-store CVS coupon Machine
$1.00/1 Progresso Soup Can – 3-2-14 SS – (exp. 04/26/14)
Final Price: Free
after stacked coupons
Home Supplies
Purex, 24 – 33 loads or UltraPacks, 18 ct – B1G2
Limit 6
$1.50/1 Purex No Sort Liquid Laundry Detergent – 3-16-14 RP – (exp. 03/30/14)

$3.00/2 Purex Liquid or Ultra Packs Laundry Detergent, 128 oz or 54 ct or Larger – 3-16-14 RP – (exp. 03/30/14)