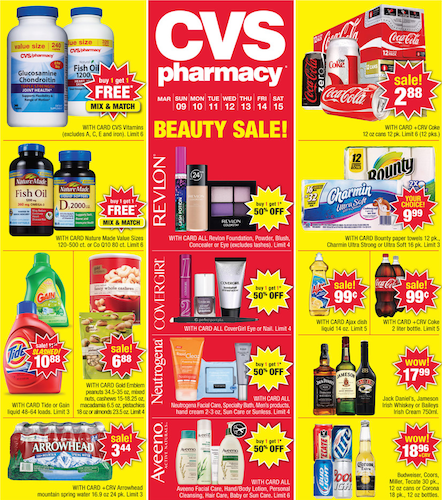 Here are the best CVS deals and coupon matchups for the week of 3/9 – 3/15/14! Get FREE Nature Made Gummies, cheap cosmetics, and more this week.
You'll need an ExtraCare card in order to take advantage of the sale prices and ExtraCare Bucks offers. Get store coupons by scanning your ExtraCare card at the coupon scanner too.
CVS Resources:
Check out these sales and coupons on your phone! Download the Favado app to your smartphone today.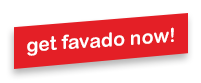 CVS ExtraBucks
Get $1 ECB wyb 1 Participating Colgate, Limit 2
Colgate 2-in-1, 4.6 oz; MaxFresh, MaxWhite or MaxClean, 6 oz; Total Advanced or Total Whitening, 4 – 4.2 oz – $2.99
$1.00/1 Colgate Total, Optic White, Max Fresh, or Sensitive Toothpaste, 3.4 oz or Larger – 3-9-14 SS – (exp. 03/22/14)
Out-of-Pocket Price: $1.99
Final Price: $0.99
Includes coupon and ECB savings
Get $1 ECB wyb 1 Participating Wisk, Limit 1
Wisk Liquid, 32 loads or PowerBlasts, 24 ct – $4.99
$1.50/1 Wisk Laundry Detergent Item – 3-9-14 RP – (exp. 04/20/14)
Out-of-Pocket Price: $3.49
Final Price: $2.49
Includes coupon and ECB savings
Get $3 ECBs wyb 2 Participating Triaminic, Limit 1
Triaminic Night Time or Day Time Liquid, 4 oz – $4.99
$3.00/2 Triaminic Cough/Cold or Allergy Products – 2-9-14 SS – (exp. 03/30/14)
Out-of-Pocket Price: $2.99
Final Price: $1.49
Buy 2; Use 2 $2/1 coupons; Includes ECB savings
Get $4 ECBs wyb 1 Participating Nature Made products, Limit 1
Nature Made Adult Gummies, 80 or 90 ct – $5.99
Includes: Multi and Calcium
$2.00/2 Nature Made Products – 3-9-14 SS – (exp. 04/09/14)

$3.00/1 Nature Made Adult Gummies Product – 3-9-14 SS – (exp. 04/09/14)
Out-of-Pocket Price: $2.99
Final Price: Free
Buy 1; Use $3/1 coupon; Includes $4 ECB Savings
Nature Made VitaMelts, 50 – 60 ct – $5.99
$2.00/2 Nature Made Products – 3-9-14 SS – (exp. 04/09/14)
Out-of-Pocket Price: $4.99
Final Price: $0.99
Use $1/1 coupon; Includes ECB savings
Get $5 ECBs wyb $10 in Participating Crest, Oral-B or Scope, Limit 2
Scope Outlast Mouthwash, 25.4 oz – $4.79
$4.79 – Prices may vary by store
Out-of-Pocket Price: $3.79
Final Price: Free
Combine with other participating products for $5 ECB Savings
Scope Outlast, 750 ml – 1250 ml – Prices vary, starting at $4.79
Final Price: Free
Possibly FREE after coupon and rebate; Stack with ECB deal for additional savings
Get $5 ECBs wyb $15 in Participating Beverages, Limit 1
Smartwater, 700 ml, Vitaminwater, 20 oz, Powerade, 32 oz, Honest Tea or Fuze, 16.9 oz – $1.00
Out-of-Pocket Price: $1.00
Final Price: $0.67
Buy 15; Includes ECB savings
Get $5 ECBs wyb any 2 Clearasil, Limit 1
Excludes Trial, Travel and Clearance
$0.75/1 Clearasil Daily Clear Product – 3-9-14 SS – (exp. 04/20/14)

$1.00/1 Clearasil Ultra Product – 3-9-14 SS – (exp. 04/20/14)
Final Price: Free
At least 1 Item FREE after rebate. Stack with coupons and ECBs for possibly 2 Free Items
Get $6 ECBs wyb 2 Participating Almay i-Color, Limit 1
Almay Intense i-Color Shadow, Liner or Mascara – $5.99
Excludes Clearance
Out-of-Pocket Price: $3.49
Final Price: $0.49
Buy 2; Use $5/2 Coupon; Includes ECB savings
Personal Care
Almay Cosmetics; Mix & Match
Almay Shadow Softies Eye Shadow – $4.99 – B1G1 50% OFF
$4.99 – Prices may vary by store
Final Price: $1.25
Buy 2; Use $5/2 Coupon
Wet n Wild; Mix & Match
Wet n Wild Lip Gloss or Lipstick – $1.99 – B1G1 50% OFF
$1.99 – Prices may vary by store
$1.00/1 Wet n Wild Product – 3-9-14 RP – (exp. 03/22/14)
Final Price: $0.50
Buy 2; Use (2) $1/1 Coupons
Wet n Wild Megalast or Fast Dry Nail Color – $1.99 – B1G1 50% OFF
$1.99 – Prices may vary by store
$1.00/1 Wet n Wild Product – 3-9-14 RP – (exp. 03/22/14)
Final Price: $0.50
Buy 2; Use (2) $1/1 Coupons
Pantene Shampoo, Conditioner, 12.6 oz or Styler, 5.7 – 11.5 oz – $3.50
Final Price: $1.83