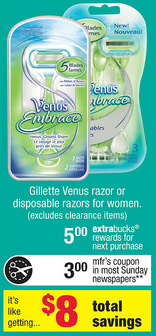 Wow! There really are a lot of moneymaking opportunities this week with store sales, rewards, and rebates! Here are a couple more deals that you can grab at CVS.
The first thing you can grab is moneymaking Venus razors! Look for the single Venus Embrace razor priced around $6.79.
Venus Embrace Razor, $6.79
$3/1 Venus Razor, refill, disposable or daily disposable 08/26/2012 P&G Insert (exp 09/30/2012)
Pay $3.79
Get back a $5 ECB (limit 1)
Final cost: FREE + a $1.21 moneymaker!
---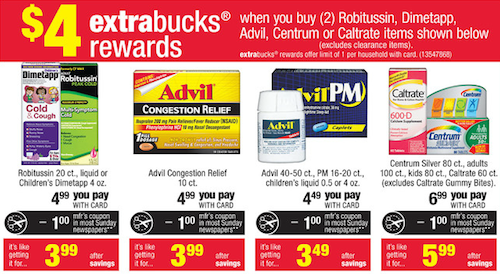 You can also make a little money on Dimetapp and Advil at CVS after coupons, ECBs and a mail-in rebate! Here's how:
Buy 2 Children's Dimetapp (4 oz), $4.99 each
Buy 1 Advil Congestion Relief (10 ct.), $4.99
(2) $2/1 Dimetapp Product
(1) $2/1 Advil Congestion Releif Product
Pay $8.97
Get back a $4 ECB (limit 1)
Submit for the $10 mail in rebate from the 8/26 RP Insert
Final cost: FREE + a $5.03 moneymaker after rebate!
Check out more CVS deals.
Thanks Wild for CVS!